Disclosure: The National Futures Association ('NFA') requires that we disclose the potential risks inherent in futures and options trading. In the following discussion, there are events and economic data we believe are bullish for petroleum prices. However, the risk of loss in trading futures and options trading can be substantial. You should therefore carefully consider whether such trading is suitable for you in light of your financial condition. Whenever potential profit or loss is discussed, past performance is no guarantee of future results.
Oil Market 2014: Second Quarter Outlook & Trading Strategy

Our methodology combines technical and fundamental assessment of the oil market and then utilize the appropriate trading structure that best fits the market scenario. While we are not "trend followers" per se, we do attempt to profit from directional price movement based on perceived imbalances in supply and demand in the oil complex. However, the pitfalls are two-fold: 1) that markets may not always follow fundamentals. We believe that prices will always revert to levels dictated by fundamentals but realize that index-investors and system-directed trading may dominate pricing during certain periods. 2) Volatility and market compression limits our ability to exploit those potential, directional profit opportunities. The following is an overview of the supply/demand fundamentals and our second quarter price forecast for crude oil, gasoline and diesel fuel.
Market Overview: Crude Oil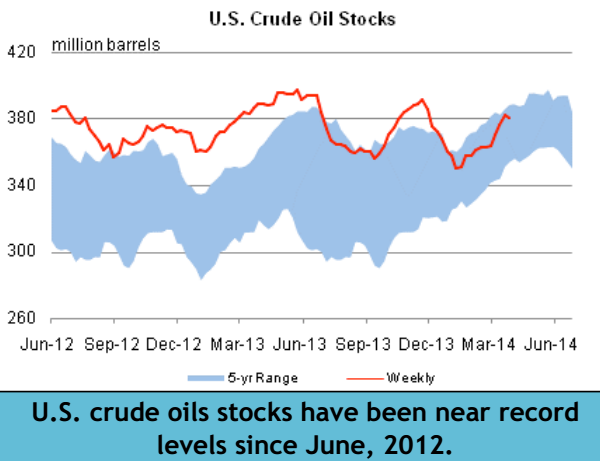 Texas crude oil production has grown from 25% of U.S. production to 35%; the Permian Basin is a driver of future growth
U.S. oil production should hit 9.6 million barrels per day before 2020, the highest level in more than 40 years
At 380 million barrels, U.S. crude oil inventories are near record highs due to increased production of domestic shale oil
U.S. shale oil (and gas) production is encouraging other countries to explore their options and become familiar with the technologies
The effect of the domestic oil boom has been two fold. First, U.S. refineries have access to cheaper crude oil than their overseas competitors, which provides a lucrative business advantage. Second, the domestic oil market is becoming increasingly insulated from supply disruptive geopolitical events. A recent example is the Russian invasion of Crimea last month which barely caused a blip in prices. In the past, that event might have caused crude prices to spike much higher and for a longer period of time. A decline in oil prices would be a function of both subdued global demand and an increase in global stockpiles. Current U.S. demand appears to be holding steady while China's demand, now the largest net importer of crude oil, is expected to remain flat through 2015.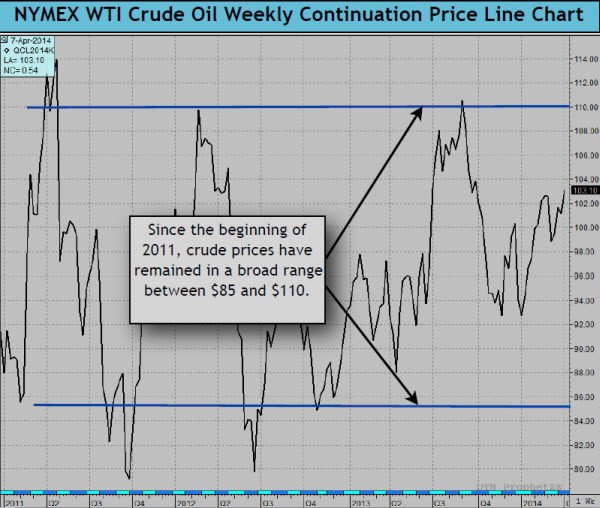 If domestic supply growth continues at its present pace, the U.S. will consume much of what it produces forcing imports to find other markets where it is in demand. The question is, can the U.S. avoid a production oversupply situation similar to that which caused natural gas prices and volatility to fall sharply? Increased U.S. oil supply and supportive Fed monetary policy has been a moderator of prices in 2013. We think those fundamentals will continue to maintain the current trading range into this summer.
To learn more about Protec and whether their CTA offering is suitable in your portfolio click here.