The main crude oil terminal at Cushing, OK, is the delivery point for the NYMEX WTI crude oil contract. Capacity at Cushing is at 81 million barrels today, up from 30 million in 2007. The tanks in Cushing are never empty, and the delivery of WTI at the Enterprise terminal in Cushing does not depend on crude oil in storage. The delivery mechanism is based on a continual flow throughout the month, based on a ratable flow of inbound crude oil that is then re-routed to buyers. There is a record amount of crude oil flowing through Cushing today, with almost 2 million barrels per day flowing into Cushing (or 60 million barrels per month). Hence, the main delivery terminal at the Enterprise facility in Cushing is acting more like a through-put terminal even though it is a storage facility. It receives inbound crude oil and then sends it on to outbound pipelines and other storage facilities. Additionally, due to the backwardation in the forward crude oil market, the advantage of storing products is greatly diminished.
Over the last year, a record high domestic crude production has pushed nationwide crude inventories to 392 million barrels – a 32 year high. During the same period, stocks levels at Cushing have dropped by 57%, from 50.5 million barrels in May 2013 to 21.4 million barrels this month. The depletion results from more crude being shipped southbound to feed gulf coast refineries that are producing at near-record levels to meet a robust export market.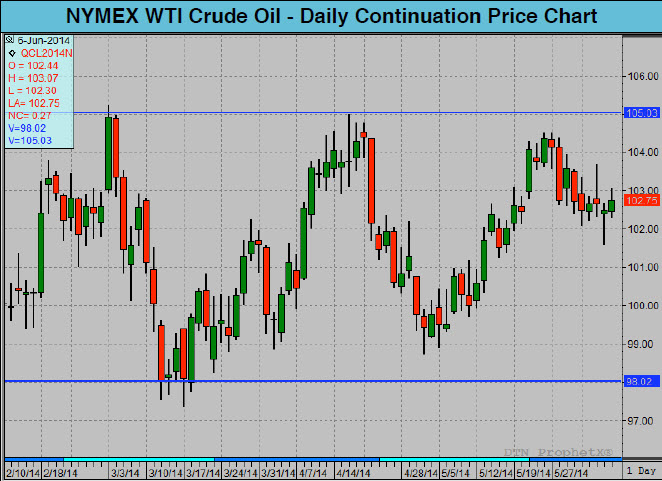 Here's the rub; the market believes that the low stock levels at Cushing could create a short supply squeeze at the delivery terminal even though it operates a through-put facility. So, despite record-high nationwide crude stock levels, NYMEX crude oil prices remain elevated. For the fifth consecutive month, crude prices continue to trade between $98 and $105, and we believe these opposing market forces will continue to keep price rangebound throughout the summer (see chart above). As a result, we will continue our strategy of price bracketing the crude oil market with option strangles as long as this fundamental logjam remains in place.
Protec Energy Partners is a discretionary, diversified energy trading firm that aims to capture higher returns from the energy markets with a low correlation to traditional assets. The Program is characterized by a short-term, buy and hold, low turn-over, reversion-to-the-mean style that sets it apart. This methodology prioritizes capital preservation and seeks to provide returns at a relatively low level of volatility compared to most other energy strategies.