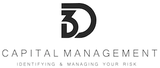 | | |
| --- | --- |
| Minimum Investment | $ 1,200,000 |
| Management Fee | 1.25% |
| Performance Fee | 15.00% |
Summary
3D Capital's trading rules have been actively trading and enhanced since 2008, when 3D's long-only S&P 500 strategy was +3% when the S&P 500 was -37%.
3D Capital has been identifying and managing stock market risk for clients since February 2011. To stay ahead of markets, 3D's trading rules evolve over time.
3D Bull/Bear combines the success of 3D's long side alpha and short side alpha S&P 500 programs in one program.