Diversified Trend Following Strategy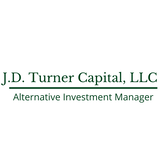 | | |
| --- | --- |
| Minimum Investment | $ 100,000 |
| Management Fee | 2.00% |
| Performance Fee | 20.00% |
Summary
*New risk management models employed on January 1st, 2022. *Initial investors are offered a 1&15 fee structure.
J.D. Turner Capital LLC.'s trading strategy the "Diversified Trend Following Strategy" is proprietary and confidential. The following description is of necessity general and is not intended to be all-inclusive and will be used to determine the conditions where a profitable opportunity exists. J.D. Turner Capital LLC.'s strategy is strictly technical and trend following in nature. No fundamental analysis is used. The strategy is not based on analysis of supply and demand factors, general economic factors, or world events.
J.D. Turner Capital's Diversified Trend Following Strategy seeks to combine traditional and modern trend following to find stronger trends and weaker correlation. The methodology offers market-neutral exposure to a broad market of commodities, interest rate, currency, and stock index futures within 17 traded markets. The system uses a systematic approach in risk management, deploying systematic option hedging tactics. Capital is dynamically allocated within our strategy based on account size, averaged volatility metrics, correlation and potential directional risk. The trend models used to trade each market are technical: based purely on price and price derivative data.
The 17 traded markets include but are not limited to:
Australian Dollar Futures, British Pound Futures, Euro FX Futures, Corn, Soybeans, Wheat, Natural Gas, Crude Oil, Live Cattle, Feeder Cattle, Lean Hogs, Russell 2000 Index, S&P 500 Index, Gold, Silver, 2 Year U.S Treasury Note, 5 Year U.S Treasury Note
Key Reasons To Invest
:
Rigorous Processes- Investment processes which aims to overcome typical behavioral biases.


Proprietary Systems- An investment system specifically designed for market neutrality and risk management.


Managed Accounts- Through the use of managed accounts, you'll have full transparency of trading and retain control of assets.


Consistency- With our systematic approach, we maintained consistency in trading and risk management throughout our track record.


Service- We are committed to the highest level of client service to meet our investors' requirements.


Dynamic Capital Allocation: We allocate capital dynamically within our strategy based on correlation and potential directional risk.
Manager Description
:
Joshua D. Turner is the manager of the Diversified Trend Following Strategy. Prior to founding J.D. Turner Capital LLC, a CFTC Registered NFA member Commodities Trading Advisory firm. He has accumulated over a decade in experience with trading the markets, focused mainly on technical analysis of trend following and the study of behavioral finance and with over 10 years of technical equity trading experience. Before working in world of finance, he's worked in the specialty chemical manufacturing sector from the age of eighteen to the age of thirty. During these years he's developed valuable skills with managing shifting priorities, navigating through risk, and standing out as a leader in a high-pressure environment.