Most CTAs are good at one thing trading.  In order for them to efficiently run a business and get themselves off the ground all other aspects of their business are important cogs to the wheel.  We have written before about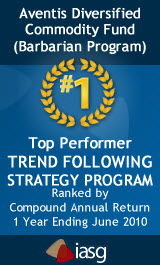 the items (other than trading) a CTA must be able to excel at for long term success.  Marketing is one of these keys every CTA must do to get investors interested in their program.  Simply listing on databases and talking to a few industry people just is not enough to get real growth to occur.  Of course having good performance and decent assets to start does not hurt things, building a brand and marketing it to asset allocators is essential.   Other databases have long provided CTAs with marketing collateral.  IASG offers free use of its downloadable PDF forms for CTAs to use for prospective investors.  Accessing these directly from their manager pages.
We want to help CTAs succeed as their growth in the industry offers our space to be viable long term.  In a few short weeks, IASG will be also providing ranking badges to CTAs to provide them with more marketing acumen to attract investors.  We will cover several categories of badges that will focus on trading style, markets traded, Rate of Return, time horizon just to name a few.  Managers can carry these badges as they see fit with a placeholder on their IASG page as seen in this sample.  Also we will offer badges for CTAs to use for embedding into email signatures and onto their websites.  Having been issued an award against your peers can only help in your pursuit of assets.  Although a small piece to the overall marketing puzzle, anything we can do to put performing CTAs on a pedestal helps us all.  IASG will also provide users with access to historic rankings via the site.  This will be released at a later date once development is complete.