Disclaimer:
While an investment in managed futures can help enhance returns and reduce risk, it can also do just the opposite and in fact result in further losses in a portfolio. In addition, studies conducted of managed futures as a whole may not be indicative of the performance of any individual CTA. The results of studies conducted in the past may not be indicative of current time periods. Managed futures indices such as the Barclay CTA Index do not represent the entire universe of all CTAs. Individuals cannot invest in the index itself. Actual rates of return may be significantly different and more volatile than those of the index.
We have described August as the dog days of summer given the limited movement in major asset classes; nevertheless, we were seeing more dispersion within equity and bond sectors, styles, and country indices. Moving averages are flattening and there are less clear signals within our sector groupings. It is unclear how long range-bound behavior will last given that the Fall season for financial markets, when trading activity picks-up, starts next week.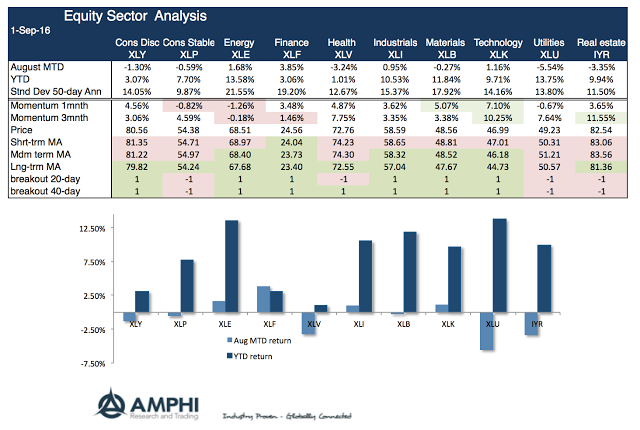 Our equity sector analysis shows that the reach for yield into the utilities and real estate sectors reversed in August. Trends have turned lower in these two sectors. In fact, most of the sector prices are below short-term moving averages. Nevertheless, a number of key sectors are still up double digits for the year. In spite of the market talk on rate increases from the Fed, the best sector was finance followed by energy.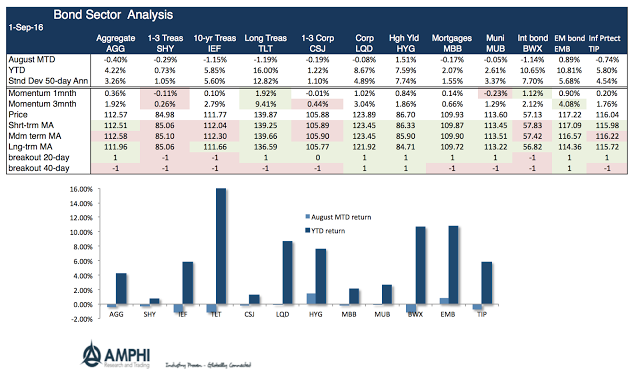 Bond sector prices have started to break lower with performance tilted negative for the month. The only places for bond protection were high yield given the improvement in the energy sector and emerging market bonds that have higher yields than developed markets. Even with this slight downturn in performance, holding bonds has been a winner for investors with long bonds, international, and EM bonds all still posting double digit returns for the year.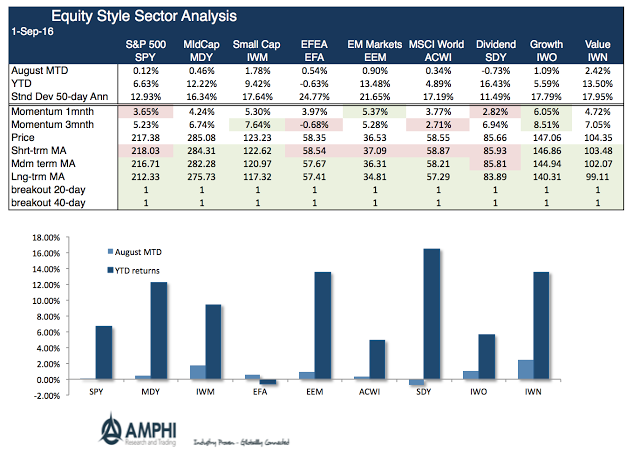 Style sectors generated positive returns for those willing to take more risk in small caps, value, and broad growth. The biggest loser was the dividend sector although it has still been the biggest gainer for the year. This is consistent with our sector analysis. Utilities, real estate, and dividend funds have all underperformed on a relative basis in August. The reach for yield may be ending although there is a desire by investors to still find higher returning assets for their portfolios. The slowdown in yield sensitive purchases is consistent with a market expecting a rise in rates from the Fed. Yield grabbing caution drove investors in August.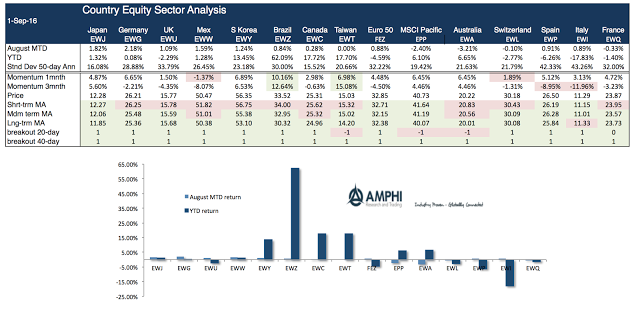 Country equity returns were relatively clustered for the month bracketed by loses in the commodity-centric Australian market and gains in the export-driven German market. When there is high EU uncertainty, money flows will gravitate to the relative safety of core Europe versus the higher risk periphery. During the Olympic month, Brazil, which has been a country leader, moved more in tandem with other markets.