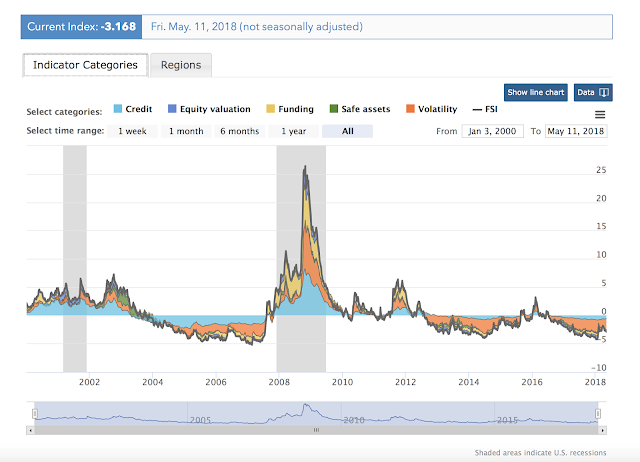 The Office of Financial Research (OFR) Financial Stress Index is not showing any signs of a problem in financial markets albeit conditions worsened in February. It is notable that all sectors, credit, equity, funding, safe assets and volatility are closer to post Financial Crisis lows than the spikes in 2011 and 2016. Of course, the construction of the OFR stress index only includes financial spreads or price information and no fundamental information. Prices may lead economic financial stress and can be a cause of stress but it does not tell us about the drivers of financial pricing.
Financial condition indices from Fed banks have not shown a return to the lows at the beginning of the year. These indices overlap with the many of the components of the OFR index but have different weighting schemes as well as different components. The Chicago Fed Financial Conditions (NFCI) Index has the broadest set of data and also uses macroeconomics adjustments for their ANFCI index. These broad indices show a similar pattern to the other stress indices. The Chicago Fed National Activity Index has increased in volatility and has failed from highs but still is in positive territory.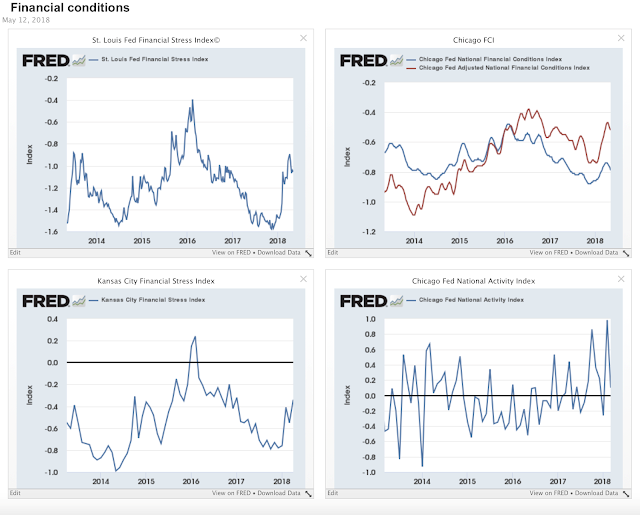 The financial conditions have been tame for almost eight years except for a period between QE's in 2011, the Taper Tantrum, and early 2016 after the end of the Fed zero interest rate policy. While the volatility spike from February has not been reversed, stress levels suggest market calmness. Market concerns and risks may be on the rise, but these concerns have not yet been displayed in financial price relationships.