Major Factors Affecting Agricultural Markets:
July weather was mild but not ideal
South America harvests large crops
Following up on last month's commentary, July featured lower than average rainfall and higher than average temperatures across most of the US's primary growing regions. Interestingly enough these results were quite different than the NOAA long-range forecasts issued for the month. Specifically, most of the Corn Belt experienced maximum temperatures that averaged 2-4 degrees (F) above normal. As you can see on the left even with this year's extremely wet spring, drought conditions are expected to develop in key growing regions of IA, IL, and IN. This is definitely something to keep an eye on as near perfect conditions will be needed to substantially increase row crop yields at this point.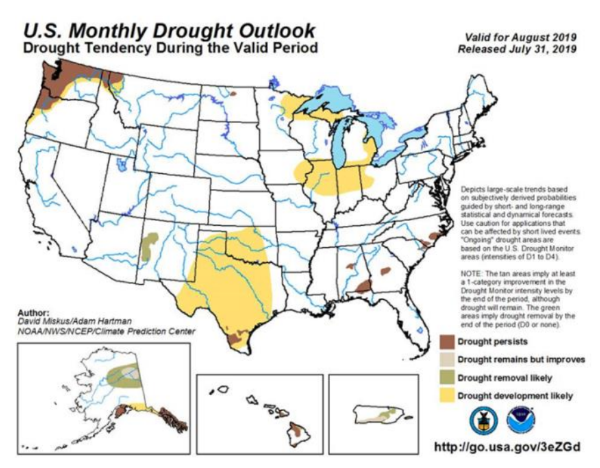 Brazil's second corn crop was planted earlier than average this year and benefited from above average rainfall and moderate temperatures. Yield prospects were expected to be fantastic, and the harvest currently underway only confirms these ideas. In Argentina, increased corn area is likely based on the higher prices seen at CBOT this spring. Planting there generally begins in mid-September and seed sales are said to be up considerably year over year.
JTM Capital Management, LLC is a commodity trading advisor headquartered in Miami, FL with an operating structure that offers full transparency and optimum liquidity.
JTM Capital Management, LLC restricts solicitations to someone who is a QEP and offers one trading program: JTM Absolute Return Strategy.
JTM Absolute Return Strategy employs a discretionary long/short option strategy with a focus on domestic futures markets.