Sugar #11- May15 Futures – In yesterday's trading session Sugar future values were strongly influenced by the exchange rate movement in Brazil. This is the first time since March of 2004 that the dollar quote fell below $3, closing at R$2.967 (-1.3%). This action in the Brazilian exchange was set into motion by a plethora of factors, first being the jobs creation figures coming in above what the trade had anticipated coupled with the inflation rate slow down registered by the IPC-S.
The international backdrop also affected the Brazilian trading session with a decline of 0.7% in the Dollar Index with the decisive factors being oil prices which rose 2.4$ (WTI) and 3.4% (Brent).
There is still much indecision in the oil markets. The Bulls were enthused over the EIA report which was released Wednesday and indicated a reduction in US production, with a seasonal increase in demand for gasoline and a ramping-up of refinery activity, therefore the situation of stocks at the country's main hub tailed off and should continue improving over the next few weeks.
Values in the May 15 Sugar futures rose in both London and New York hitting 13.09 (+3.4%), the highest level since April 17th.2015 and rising again in this morning's session trading at 13.19 up .10 ticks.  Technically, chart structure is improving after prices hit a low of 11.91 back on March 31st then rising to a high of 13.46, it appears the market has now put in a lower high.  If the market can take out the previous highs of 13.45 this may open the door to the 14.00 resistance area, as support remains at the 12.40 level. Volatility has slowly been creeping higher almost matching the previous highs from February 2015 and increasing option premiums. Values are above the 20-day moving average but currently remain below the 50 and 100 day averages. We remain in a "wait and see" mode looking for price action and market structure to strengthen and improve before dipping a toe in the water.
Sugar:  May 15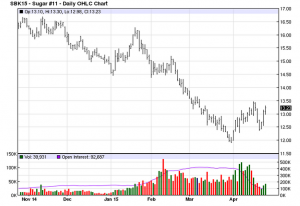 If you would like to speak directly with one of our experienced Risk Managers feel free to call: 312-561-3145 or send an email to info@iasg.com.  You can also reach us through our website at www.iasg.com .