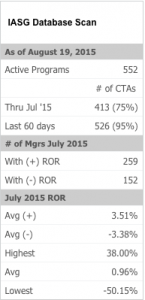 The IASG CTA Index has approximately 75% of managers updated through July performance with almost all sectors posting positive returns for the month. The one exception is the agricultural index where many managers struggled with grain pricing continuing downward pricing and many with expectations that there would be a bounce back in grains.
The Trend Following Index also reported a strong month of July up 2.22% putting this overall index about flat for the year.  The Greek government came to terms with the European Union on a debt deal that caused the Euro to fade and concerns about Greece to be held off at least for the time being.  A number of other currencies relative to the dollar also trended creating opportunities as did energy continuing to the downside.
This has trended similarly to the overall IASG CTA Index comprised of all managers in sectors having greater than 36 months of performance.  Without many moves in the stock market, most options based index managers fared well trending with the SP500 index.