A US equity rally after the election and a major bond sell-off highlighted the month for traditional assets. Many hedge fund strategies were able to exploit these moves and generated gains especially in fundamental value, market directional and relative value strategies. The big losers were fundamental growth and emerging markets. Global macro and CTA strategies also generated loses for the month.
These hedge fund loses were surprising given the disruption in global markets. It is unusual to see the equity-based strategies not gain more during the month. The small cap and value indices saw double digit gains which are supposed to be the sweet spot for many equity hedge fund managers. Perhaps more managers were hedging risk going into the election, but hedge fund returns did not reflect the level of positive market disruption in equities.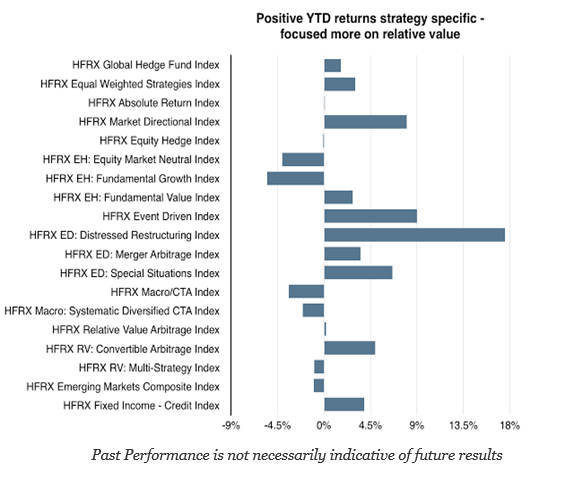 The year to date returns showed general improvement, but it is still looking like a disappointing year for most hedge fund strategies. With one month to go for the year, market neutral, fundamental growth, global macro, and managed futures look like having little chance of turning positive for the year. The real winners were distressed, event driven, and market directional which implicitly is a market beta bet. Distressed and event driven are very situational, so it is hard to say whether their performance will be repeated again in 2017. For the remaining strategies, the end of the year will be a period of reflection on how to generate future gains.