Earlier this month, BlackRock reported their institutional investor survey findings taken from late last year. The results are not that surprising if you believe that inflation may be rising and there is still a need for yield. Cash levels are expected to decline along with fixed income, but real estate will see a large boost. Investors will reduce public equity exposure, but increase their exposure to private equity. There is a bias to less liquid higher risky assets. What may catch some by surprise is the large increase in allocations to real assets which includes timber, commodities, infrastructure, and farmland.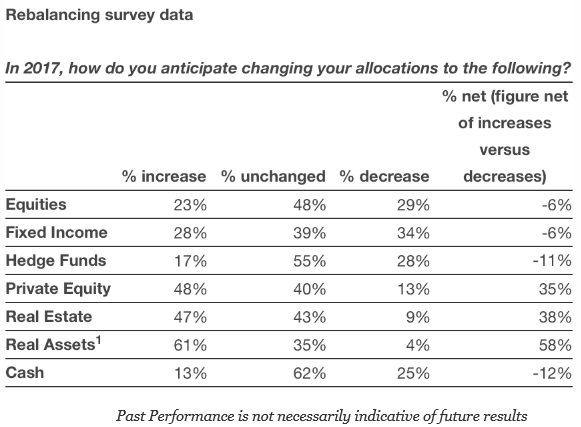 If you believe that inflation is going to further increase, then the real asset increase make perfect sense as an allocation alternative. Surveys are good at showing the revealed preferences of investors. This is where money will be committed.
Commodity markets seem to have bottomed last February, but we are only 16% above the lows. The long-term performance is still well below the highs from before the Great Financial Crisis. Farmland prices as reported by three Federal Reserve banks have fallen by about 5% over the last year. Farm prices peaked just after farm income peaked in 2014. This may be a good time for increases in real assets.