Hedge funds are frustrated, as evidenced by the recently published Preqin Investor Interviews. If hedge funds do not perform this year, there will be significant changes in allocations. The number of respondents to the survey who said that returns fell below expectations increased by 50% in one year to the highest levels reported. Only 3% of investors believed that returns exceeded expectations. This was tied for the lowest levels reported.
The highest frustration was with discretionary CTA's, where 73% of respondents believed returns fell below expectations. Macro and systematic CTA's both had returns that fell short of expectations as measured day the survey of more than 50%. The only strategies that had higher levels of expectations that fell short were equity strategies and activist managers.
The low returns for this year have led to reduced confidence in hedge fund managers over the last 12 months. As a result, 47% of investors have reduced their confidence levels, with only 10% saying they have increased confidence in hedge fund managers. This reduced confidence is coupled with over 50% of investors believing hedge funds will perform worse in 2017.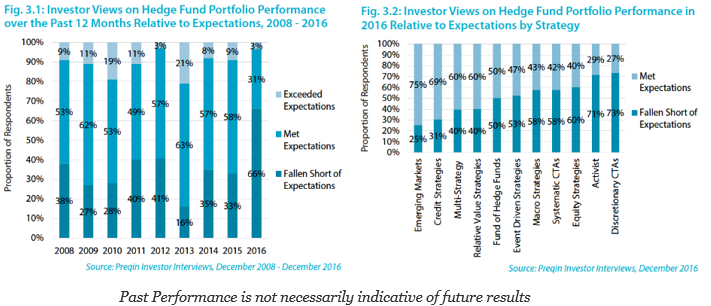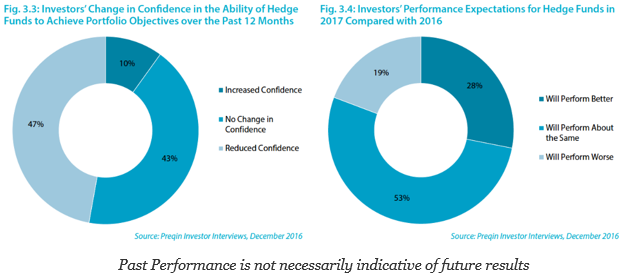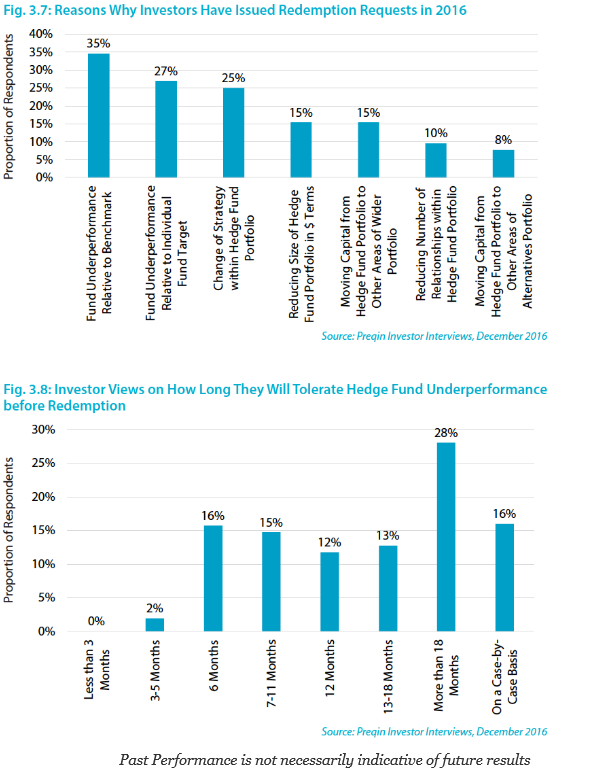 There is a genuine reason for manager concern given the quick trigger on performance shortfall tolerance from investors. The Preqin survey shows that 45% of investors will not tolerate underperformance for a year or less, and just under 60% will tolerate underperformance for 18 months or less. So every hedge fund that underperformed last year should be on notice that they will be watched closely.
The state of the hedge fund industry is poor when we have close to 50% reduced confidence, and more than 50% of investors believe that performance will worsen in 2017. There should be a need for better marketing to help shape expectations, but the real issue is for managers to perform with returns that meet expectations. There will be return shortfalls, but for any set rolling time period, there has to be returns that exceed risks while providing a diversification benefit. If that does not happen, money will move in new directions.