The equity markets again continued to march higher with strong gains in international and emerging markets. However, it should be noted that non-dollar equities were given a nice tailwind from the decline in the dollar, (take off 2-3+ percent). After the currency adjustments, there is less reason for large celebrations. What should be a concern is that the biggest moves were in large cap stocks with more modest returns for small cap and value indices. This should be expected on a dollar decline given the international nature of large-cap earnings, but lower breath is not a positive sign for follow-through with the trend.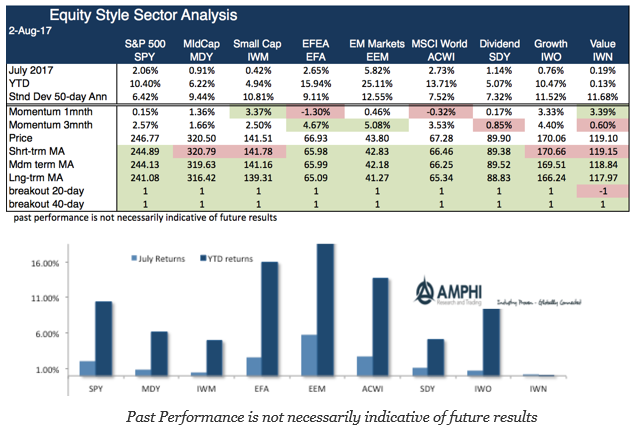 The sector dispersion was significant with finance leading the way after the clean bill of health from stress tests. Banks have been able to announce plans for shareholder buybacks and dividend increases. Energy generated positive gains on higher oil prices but still is a sector laggard. For all of the concern with technology, it still generated a positive month albeit this is for larger-sized names. The largest decline came in consumer stables which is surprising if there is expected higher economic growth. Utilities declined with bond markets.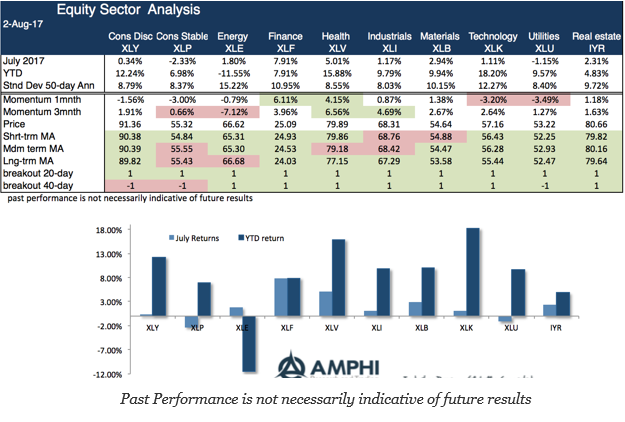 The gains for some countries were truly surprising given geopolitical and policy uncertainty. Mexico continues to move higher on no trade action from the Trump administration. South Korea and Taiwan are both higher and having great YTD performance in spite of all the North Korea turmoil. Again, the dollar decline was a help, but country-specific bets rewarded investors who made strong regional allocations.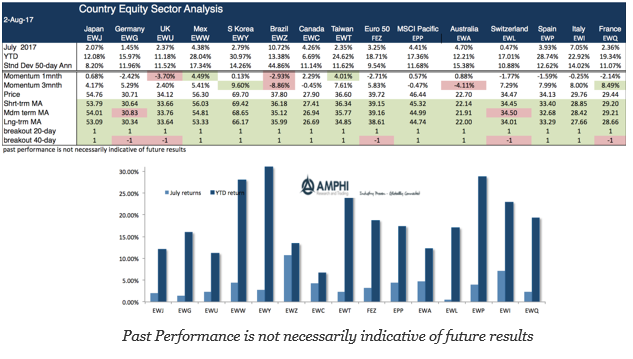 Long duration bond investors were hurt from concerns about Fed balance sheet selling. International investors were rewarded for their currency exposure. Credit markets continued to see inflows which drove spreads tighter.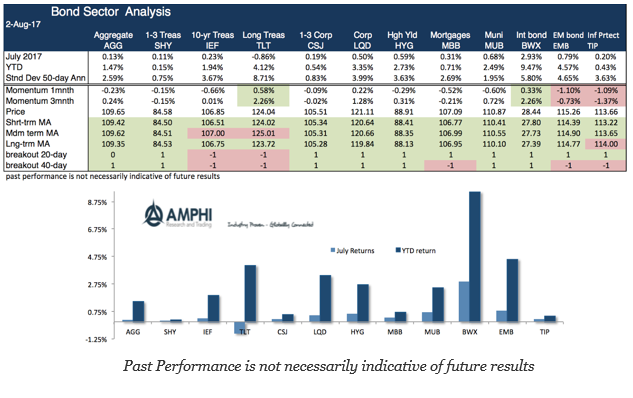 As many investors head for their holidays, the trends for long-only investor look strong. While bond trend performance is more mixed, equity style, sector, and country trends all point to holding onto existing positions. Many may be ready to unfold the beach chair; nevertheless, risks from central banks announcements will increase as we move into September. Enjoy your holiday, low volatility may be ending upon your return.