You have heard of Yellen (Fed), Draghi (ECB), Kuroda (BoJ), and Carney (BOE), but most cannot name any China central banker, yet the moves of this bank may be more important than the four when thinking about the future of world currency hegemony. Zhou Xiaochuan has been in the news just before the Chinese Congress with a strong appeal for financial reform. This is reform for further ascent of China as a major financial player. He has followed this path across his central banking career, but he is set to retire in January.
On margin, his successor may be more important than other central bankers over the longer-run because he will determine whether there will further financial reforms and global financial integration.
Any shift in policy will have strong global ramifications. For example, a slowdown in reforms and a move back to a cheaper yuan policy will impact both developed market and emerging markets. Just look at the yuan chart and match with commodity or dollar flows. The speed of reforms for flexibility will impact currency trading flows and thus impact all who are active in the FX markets.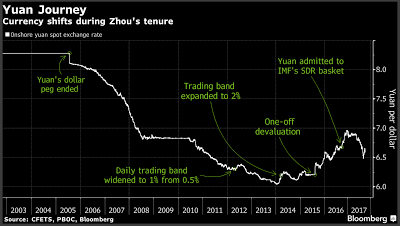 Many quants will argue that these musing on policy financial statecraft do not have an impact on traders because they don't trade the yuan and their interests are always short-term, yet a change in yuan policy or a switch in reform direction will spill-over to both commodity and financial markets. Structural changes do matter. Just look at the shifts in the yuan over Zhou's tenure.
Structural policy changes lead to market divergences. They may not always impact prices immediately, but they will play pressure on teen directions.