The classic 60/40 stock bond asset mix has proven to be a good core asset allocation. When in doubt, employing the simple 60/40 (SPY/AGG) asset mix as a base case has been an allocation that has performed well versus other diversification strategies. This allocation bias may be coming to an end.
The gains from holding a US focused large cap equity and diversified bond allocation and not being further diversified across investment risk premia styles and international equity and bonds is a function of the recent performance and not special characteristics. Performance for both stocks and bonds is now off from the norms of the last decade. The correlation between stocks and bonds is moving higher. Volatility across equities and bonds is also trending higher. Something more defensive may be helpful.
Nevertheless, many investors are looking for a way to get defensive without a significant change to the asset allocation. There are simple defensive changes that can stick to a 60 percent domestic equity allocation and receive significant diversification benefit. Using the advantages of alternative index construction or smart beta can be a helpful simple strategy.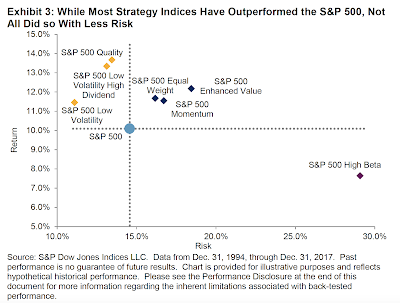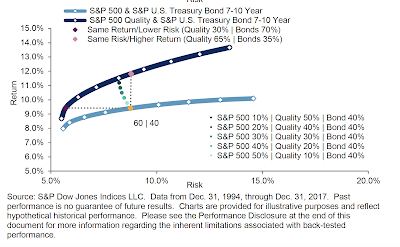 Smart beta strategies have performed well over a long period, but a better testimony of their current value will be with their ability to provide defensive benefit in a downturn. For those that want to maintain asset allocation and are not believers of active discretionary manager in any regime, the smart beta choices can offer some equity risk protection. First, the smart beta choices will change the mix of equity exposure, generally broadening the exposure away from large firms with momentum. Second, smart beta can focus on preferred characteristics like quality or low volatility that should provide defensive benefits.
A tilt to long-only risk premia and away from market cap indices can preserve risk allocation while providing defensive characteristics. The same can be done with fixed income through reducing duration while maintaining credit exposure. A traditional 60/40 asset mix can be converted into a defensive 60/40 allocation.