Commodities are an effective way to hedge against inflation, but it can also be viewed as a simple way to play the global growth story. The average annual total return for the Bloomberg BCOM index (formerly the DJUBS commodity index) since 1992 has been 1.37% but if we look at returns when global growth is above 3%, the average annual return was 10.91%.
The poor performance during the post Financial Crisis was mostly during an extended period of sub-3% growth between 2012 and 2016. The poor commodity returns were also closely tied to the slowdown in China growth. The strong declines in commodity prices match the transition from    9% growth in pre-2012 to the 7% growth from 2012 to 2016.  Growth matters especially for the oil and metal cyclical commodities.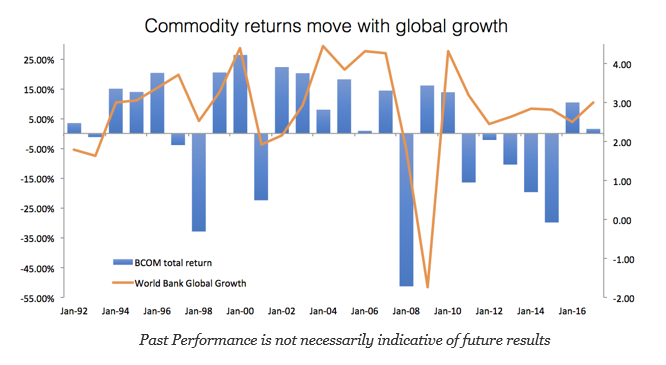 A sustained increase in global growth above 3% will provide a strong tailwind for any broad-based commodity investing and provide an alternative to over-valued equities or bonds.